At present, water consumption is becoming a global issue, and you are wondering how to optimize your pool's consumption. On average, a 8 x 4 m pool consumes 15 m3 of water, i.e. 15,000 liters. Here are some tips that will allow you to reduce your consumption and save money.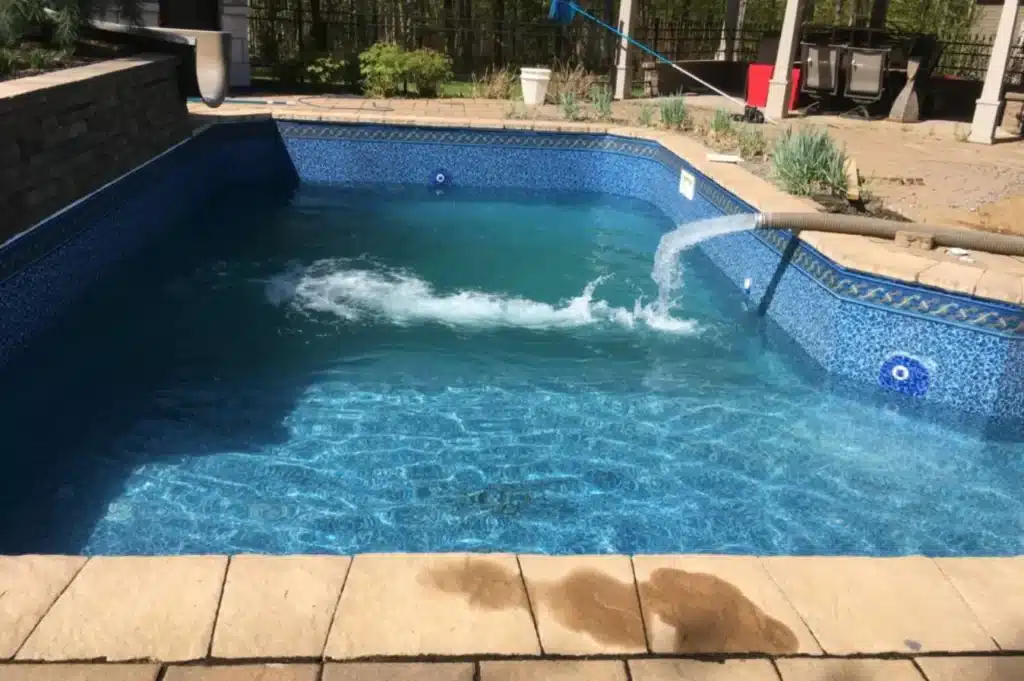 Restart of your pool
Water renewal occurs primarily during the starting up your pool(summering):
If you have chosen an active winterization (with 2/3 of water maintained), you will only have to fill your pond by 1/3.
If you have done a passive winterization (imperative if you live in a region of frequent freezing in winter) you will have to renew your water by 2/3.
Apart from this period, you will only need to make occasional water leveling to compensate for evaporation due to high temperatures.
The importance of water treatment and equipment
The water consumption of your pool depends mainly on three parameters:
the quality of your equipment: in particular that of your filtration system and the quality of your cover.
the constant optimization of water quality.
water leaks
Efficient equipment to control water consumption
Over the past twenty years, pool professionals have made significant innovations in the choice of construction materials, in filtration pumps, which are now much more efficient than in the past, and in high-performance protection systems that preserve water quality. These investments will allow you to save water and often also to consume less electricity.
Water filtration quality : There are several proven filtration systems (sand or glass filters, cartridge or diatom filters) that allow you to maintain a constant water quality and reduce the need to renew the water. The filtration time, especially during the summer season, is therefore of great importance if you want to reduce your water consumption. Filtration constitutes 80% of the water treatment and actively participates in the preservation of its quality.
The pool cover : a protective cover performs well to slow down the evaporation of water during hot weather. Without evaporation, no need to add water. In addition it is important to choose a cover according to your region: the more rainy (acidity) or windy (pollens) the region is, the more necessary it is to protect your pool to preserve water quality.
Regular water treatment reduces water consumption
The Federation of Pool and Spa Professionals recommends a weekly 30-minute check to clean your pool and filter to avoid excessive cleaning.
A swimming pool can only be drained when the pool is being worked on or when the pool walls are too scaled, the water is saturated with chlorine stabilizer or is too degraded. For this reason, it is necessary to take a few minutes of special care every week. This will reduce your water bill and your impact on the planet.
Check for water leaks
The last reason you lose large volumes of water is the most obvious: a leak. If you suspect a leak, we recommend that you examine your pool's structure and lining, pipes and filtration system. If in doubt, call a pool professional to give you his or her opinion.
To conclude
It is possible to reason about your pool's water consumption as long as you have the right equipment. In addition, connected water analyzers such asICO allow you to monitor your pool water and to treat it efficiently at the right time, before its quality deteriorates. This way you can effectively preserve the quality of your water without having to renew it.
Very recently, a new European energy performance standard was launched: as a consumer, you can build your pool or renovate it by choosing materials based on their energy performance. You can now make your purchases in a well-informed way.
If you also own a hot tub, you can find our tips for reducing your electricity consumption.