The Federation of Swimming Pool Professionals has announced the launch of a new European environmental standard to accelerate the development of more environmentally friendly private swimming pools. Pool manufacturers are now required to inform consumers via an environmental performance efficiency rating from A ( the greener) to F ( the most energy-intensive) common to all European countries. This new scheme will guide consumers in choosing more sustainable equipment and encourages manufacturers to develop equipment with a limited impact.
Greener private pools
You have a pool construction project? Your pool needs renovation?
Just like the Nutri-Score on food packaging, you can now choose your pool equipment and products according to their energy performance. This new regulation will allow you to make your purchases while being informed of their impact on the environment.
As of January 2023, a pictogram will indicate scores from A to F on the following pool equipments:
Basic equipment such as the pool, water treatment, lighting, filtration and cleaning ;
Roofing and heat pump, which will be scored individually and not in the overall score.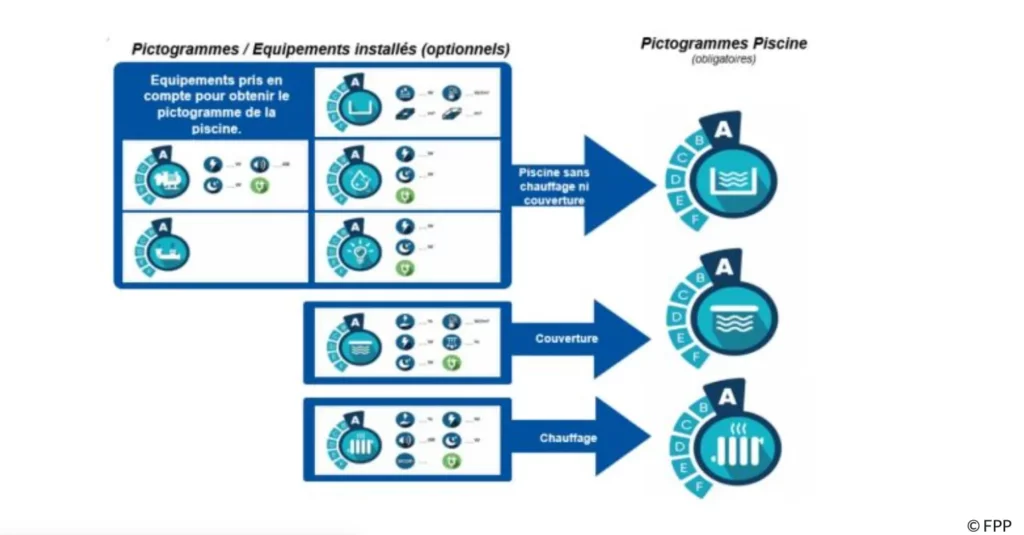 Does this new environmental regulation apply to every pools?
At the beginning of 2023, the energy rating of products and equipment will apply to all voluntary outdoor pool professionals. It should become mandatory at the end of the year. It does not apply for the moment to private indoor pools, above ground pools or spas for family use.