The garden equipment sector is in full development because the French prefer a quality of life at home. According to the FFP, more than two million households have a private pool. Nevertheless, a swimming pool represents a real budget for the household: water, electricity, heat pump, robot...To know how to reduce the energy consumption of your swimming pool, continue reading.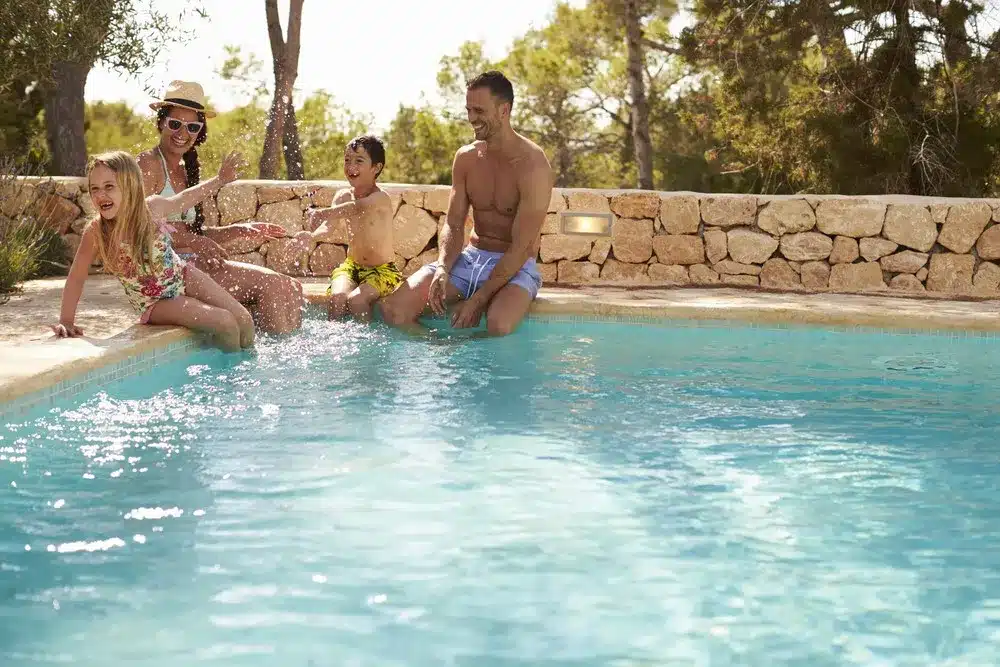 What actions can be taken to reduce the energy bill?
The electricity consumption of a pool depends on several parameters:
The pool size ;
The power and performance of your filtration system.
 The climate depending on your location
The location of your pool: indoor or outdoor? In the shade or in the sun? ;
The materials used for the pool;
The electrical equipment intended to heat and filter the pool: heat pump (PAC), boiler, solar thermal collectors, photovoltaic panels, etc.
Here are some tips for reducing your pool's energy consumption.
Maintain your pool regularly: cleaning improves water quality and helps to use fewer chemicals.
Orient your pool correctly: choose a southern exposure to benefit from the sun's rays for longer
Avoid trees that prevent the "natural" heating of the pool
Then, optimize the volume of your pool.
Respect the filtration time. If you do not filter the pool water long enough, you will use more chemicals and water.
Use LED lighting
Heat the pool water with photovoltaic collectors if you have a heat pump
Install a pool cover to heat the water naturally with the sun's rays.
Adopt a more eco-responsible behaviour to allow a complete optimization of a pool and the control of its energy consumption.
Choisir le bon fournisseur d'électricité pour faire des économies
Les concurrents EDF sont-ils une bonne alternative ?
L'ouverture du marché français de l'énergie a facilité le développement des fournisseurs d'énergie alternatifs aux fournisseurs d'énergie historiques : Engie (ex-GDF) et EDF.
Par ailleurs, les fournisseurs d'énergie historiques ont du développer leurs offres énergétiques pour répondre aux nouvelles attentes des consommateurs. Néanmoins, les fournisseurs d'énergie alternatifs se sont adaptés plus rapidement aux nouveaux besoins des foyers français.
Des offres énergétiques au prix du marché pour réduire le montant de la facture d'énergie
Des offres énergétiques et des options tarifaires plus variées. Les offres vertes ou connectées, les options heures pleines / heures creuses.
Des services plus adaptés aux besoins des consommateurs
Les fournisseurs d'énergie alternatifs (liste complète disponible here) ont obligé les deux fournisseurs d'énergie historiques à s'adapter au nouveau marché de l'énergie français. ngie pour souscrire une offre énergétique plus adaptée auprès d'un fournisseur alternatif comme Énergie d'Ici, Plüm, Vattenfall ou Eni. Les consommateurs peuvent résilier facilement leur ancien contrat et souscrire une nouvelle offre gratuitement.
Les numéros verts d'Eni, Vattenfall, Total Direct Énergie et Ilek : comment souscrire une nouvelle offre énergétique ?
Contactez un fournisseur d'énergie alternatif. Les numéros verts Eni, Total Direct Énergie, Vattenfall, Ilek, etc. sont disponibles sur les sites web des fournisseurs d'énergie
Estimez votre consommation énergétique auprès d'un conseiller : surface du logement, nombre d'habitants, équipements, piscine privative, mode de vie, etc.
Souscrivez une offre énergétique adaptée à vos besoins
Le fournisseur d'énergie alternatif contacte lui-même Enedis (ex-ERDF) pour effectuer l'ouverture du compteur électrique. Les frais inhérents à la mise en service du compteur électrique seront détaillés dans la première facture électrique. Ces frais et les délais varient selon la mise en service effectuée.
Pour conclure, le marché de la piscine se développe rapidement. Cependant, une piscine représente cependant un important investissement pour le foyer. Une conceptualisation intelligente de sa piscine est une solution efficace pour réduire vos dépenses énergétiques.