Did you know that ICO is designed and manufactured in France?
In this article, we take a look at the French design and manufacturing process that brings ICO to life. Plus, explore how ICO combines technology and sustainability, and how this smart device not only helps to preserve the environment but also generates savings for its users.
ICO, designed and manufactured in France
Ondilo is headquartered in Saint-Cannat, near Aix-en-Provence, where all the design and testing for ICO is carried out.
Indeed, Ondilo's dedicated research and development team engages in a rigorous process, including the creation of detailed plans, the production of prototypes, the careful selection of materials, the development of the cloud and the application, as well as the firmware. This agile R&D organisation is supported by an expert technical team with proven skills in electronic, mechanical and IT mechatronics. It is responsible for developing new products and upgrading existing ones, managing the entire process from design through to industrialisation.
To manufacture our ICO range, we have developed a number of partnerships, including plastics processing, assembly and resin-coating, which are carried out in the Rhône-Alpes and PACA regions. This enables us to create direct and indirect jobs, located in France, while controlling manufacturing costs and reducing our impact on the environment.
ICO, an eco-responsible product
At Ondilo, sustainable development is one of our commitments. The ICO range embodies this ecological vision by meeting precise specifications. We have designed our range of products using robust materials to optimise their lifespan, thereby promoting responsible consumption. What's more, our manufacturing process, carried out in France, reinforces our commitment to the local economy and limits our carbon footprint.
To guarantee the durability of our products, we have incorporated replaceable components such as the probes and electronic box, allowing easy maintenance and extending the life of our devices.
As part of our eco-responsible approach, we have also adopted digital media, avoiding the printing of superfluous documents in packaging. We do our utmost to ensure that essential information is accessible via our application or our website, thereby reducing our environmental impact.
Continuing in the same vein since July 2023, a reconditioned version of ICO Pool is available from the Ondilo shop, this is an ecological and economical option for users concerned about their environmental footprint.
ICO reduces the impact of your pool/spa on the environment
Thanks to our ICO connected water analyser, Ondilo is revolutionising the way water quality is maintained in swimming pools and spas, simplifying management and reducing environmental impact. On the one hand, optimising water quality limits consumption and restricts the use of chemicals thanks to the precise dosages recommended by ICO. On the other hand, control of filtration time contributes to a significant reduction in electricity consumption.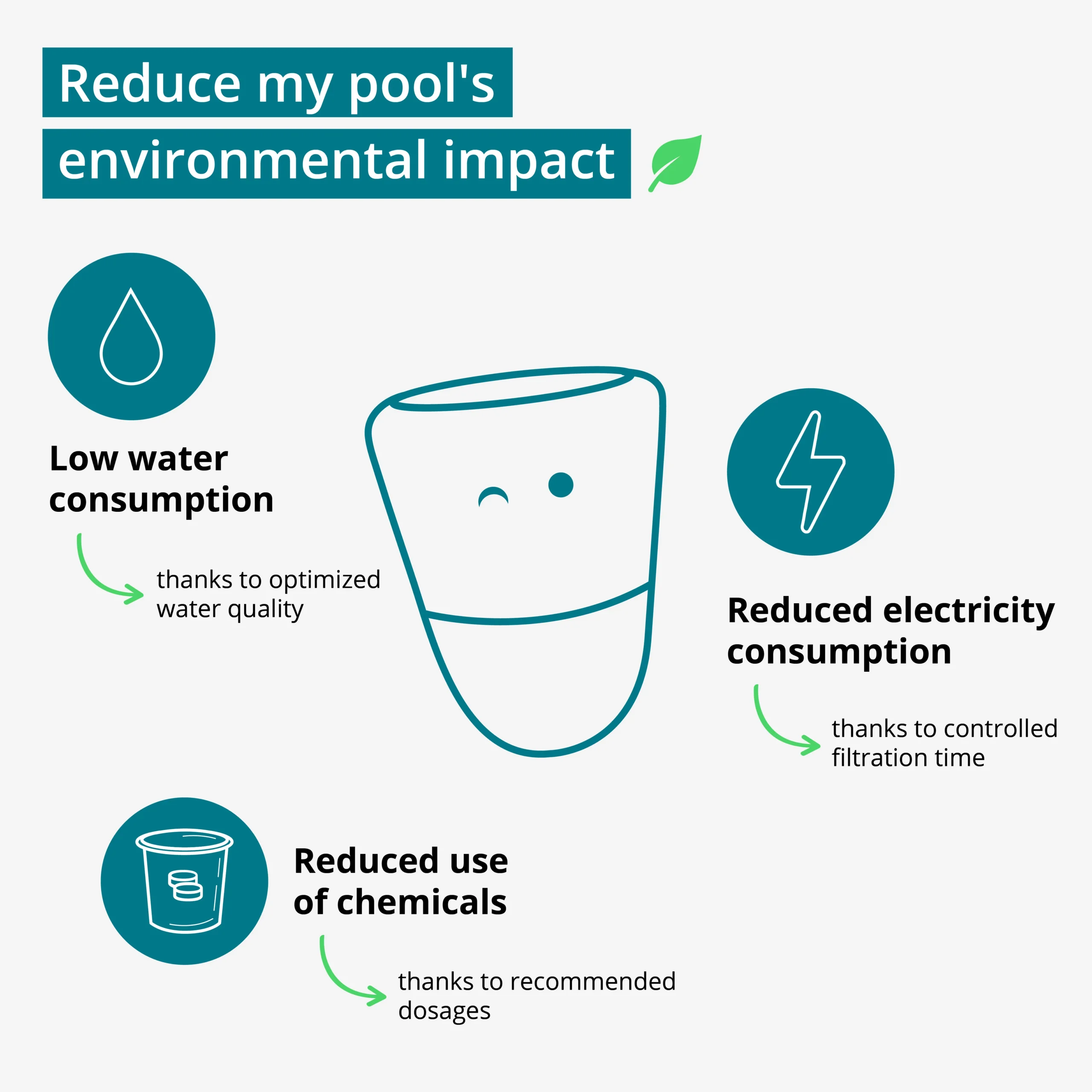 Save money with ICO !
By recommending the right product, at the right dosage, at the right time, ICO saves you time and money. ICO anticipates variations in measurements and their fluctuations, enabling you to reduce the quantities of chemicals used. What's more, ICO doesn't require any additional subscription or pay-as-you-go option, and works over your WiFi network.
In conclusion, ICO, the connected water analyser designed and manufactured in France by Ondilo, embodies the perfect blend of technology, eco-responsibility and practicality. With ICO, choose peace of mind and environmental responsibility.