Lorsque l'automne arrive, il ne faut pas hésiter à hiverner votre piscine. Cette routine d'entretien est nécessaire pour préserver vos équipements sur le long terme la qualité de l'eau. En effet, si l'hivernage de votre piscine est mal réalisé, vous risquez d'endommager coque, tuyauterie, parois et liner. Pour un hivernage réussi, voici les cinq erreurs à éviter pour retrouver une piscine saine au printemps prochain.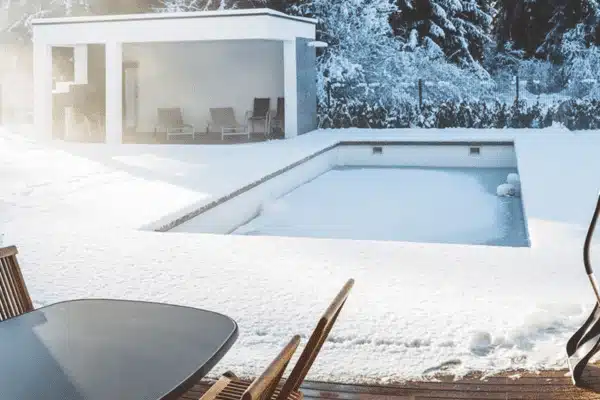 Erreur #1: zapper l'étape hivernage
Leaving your pool in full water without proper winterizing maintenance could damage your equipment and cost you dearly in repairs. Indeed, in the event of a severe freeze, the entire piping system could be damaged. Secondly, the deterioration in water quality could permanently alter the lining of your pool. Lastly, restarting the system could be very complicated if you want to get back to balanced water next season. To winterize your pool properly, the first things to do is to decide on the type of winterization to use: active or passive winterization ? You will find all infos in this article.
Mistake #2: Wintering at the wrong time
Lorsque l'eau atteint une température constante de 12°c, il est temps d'hiverner. Un hivernage trop tôt dans la saison favorise l'apparition d'algues et de bactéries ! Gare alors aux heures de nettoyage et à la facture de produits d'entretien. A l'inverse, un hivernage trop tardif lorsque l'eau est en dessous de 10°c est un risque pour vos équipements.
Mistake #3: completely empty the pool
Parlons d'abord d'écologie : vider totalement l'eau de votre bassin en hiver n'est ni utile ni écologique. Vous devrez la remplir à la prochaine saison ! Deuxièmement, l'eau exerce une pression sur l'ensemble de la structure de votre piscine. Lors d'une vidange totale, la pression est annulée. Cela fragilise grandement la structure de votre bassin. Vous risquerez également de voir un liner se décoller, des craquelures pourraient apparaître sur des coques ou des piscines maçonnées. En quelques semaines et sous l'effet du froid prolongé, les craquelures se transforment en fuites, parfois très importantes. Dernier facteur dissuasif : le coût ! En fonction du tarif de l'eau dans votre commune, une vidange complète du bassin peut sérieusement alourdir la facture.
Mistake #4: Superficial pool cleaning
Whether you opt for passive or active winterizing, winterizing doesn't just concern the water in your pool. One of the basic step of winterizing is to carry out a thorough cleaning of your pool and equipment. Cleaning the filter, baskets and skimmers, emptying the pumps, not forgetting the addition of an anti-freeze winterizing product are all necessary. Just a little elbow grease to clean the water line, bottom and sides of the pool. Finally, don't forget to winterize your ICO and keep it in a clean, dry place.
Mistake #5 : Leave the pool unprotected
Après avoir effectué l'entretien de votre bassin, nous recommandons de couvrir votre piscine avec une couverture d'hivernage. Une bâche permet de protéger l'eau de la piscine afin qu'elle reste propre jusqu'au prochain printemps. Attention d'utiliser cette couverture uniquement lorsque la température de l'eau est inférieure à 12°c ! En effet, une température trop élevée pourrait l'altérer et créer des algues. Cette protection est donc bien spécifique au temps froid.