Whatever the size of your pool, it is possible to practice swimming thanks to the numerous equipments available on the market. Counter-current systems, swim bow, swim elastic, swim pole... Good news, there is something for every budget! Here are the different equipment solutions to enjoy your pool while doing sports.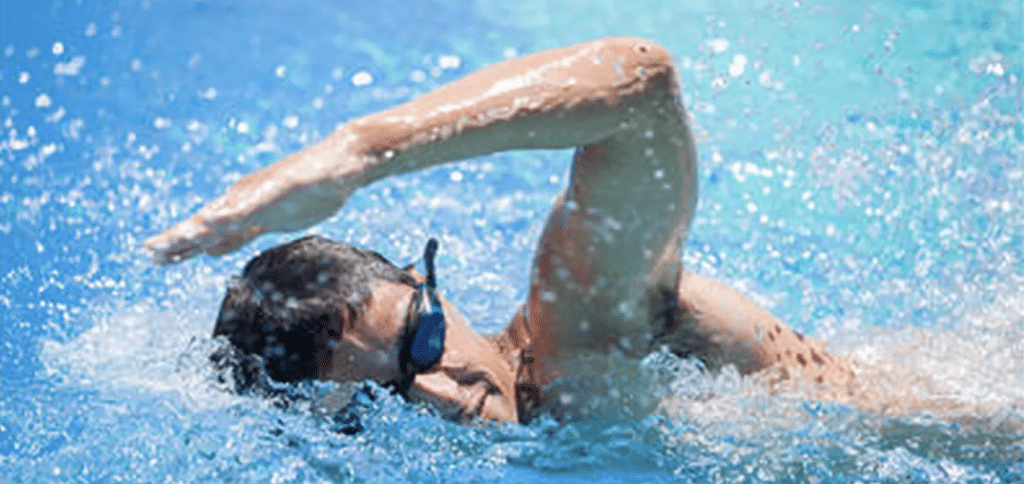 Counter-current systems
These solutions are very popular on the market and are attracting more and more customers. Among the offers, there are two types of systems:
Jets : the classic counter-current swimming systems integrate pumps and discharge nozzles and can be outboard or integrated. Their principle: a water suction by a nozzle, then a discharge by another nozzle. The intensity of the water flow is adjustable and also allows you to enjoy a massage session in the water.
Turbines: this system works on the principle of a boat propeller, creating a powerful and very large current ( up to 1,200 m3/h flow). This solution is favored by high-level athletes who are looking for a more natural and homogeneous flow distributed over the entire body of the swimmer. Last but not least, the turbines are quieter, they limit splashing.
Alternativ solutions to counter swim systems
Several alternatives to the counter system exist to practice sport swimming, known as static swimming: the swimming bow, elastic or the swimming pole. These solutions are available for smaller budgets.
Swim bow
The swimming bow can be used in any pool, in-ground or above ground. It consists of :
A rigid arch to be fixed either on the ledge or under the inflatable pool's tubes
A rubber band that the swimmer equipped with a harness attaches to his waist.
The swimmer is perfectly maintained to practice a stationary swim. The bow allows the swimmer to maintain a horizontal position while remaining free of movement. You can combine a swimming bow with a swimming elastic for even more sustained efforts to sculpt the body.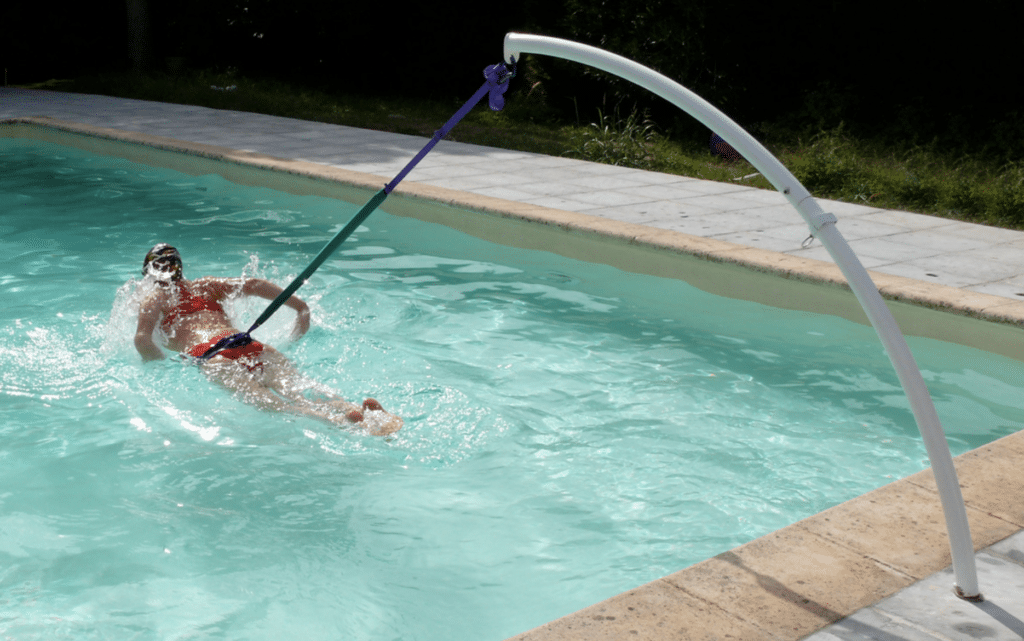 Swim elastic
Ce système fonctionne avec un élastique fixé d'une part à la margelle relié à la taille du nageur. Grâce à la tension exercée par l'élastique de nage, l'utilisateur fournit des efforts constants pour nager et résister à l'eau. Très efficace, l'élastique de nage permet de décomposer les mouvements de natation et travailler le cardio.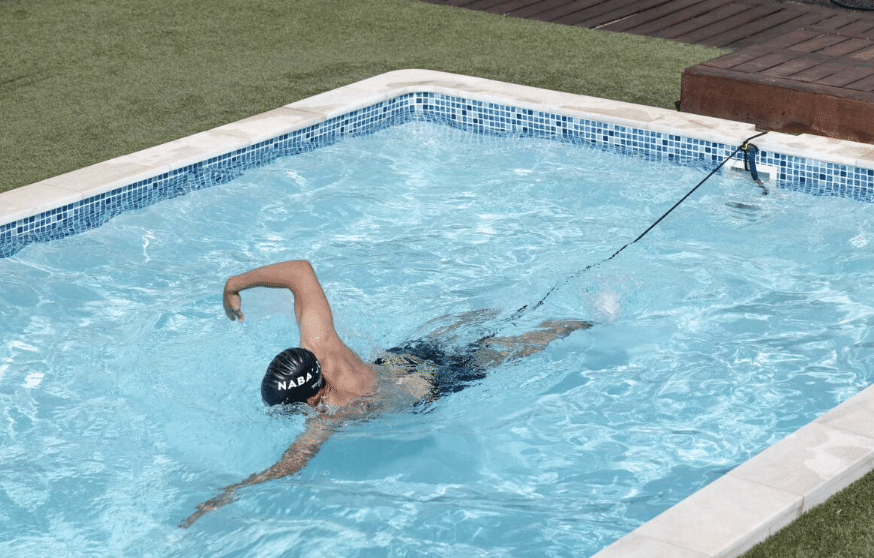 Swim pole
Accessible to swimmers of all levels and ages, the swim pole allows you to maintain a good horizontal balance and not to sink. To use it, you simply have to :
Attach the telescopic pole to a fixed point outside the pool
Attach the other end of the swim pole around your waist with a ring attached to a belt.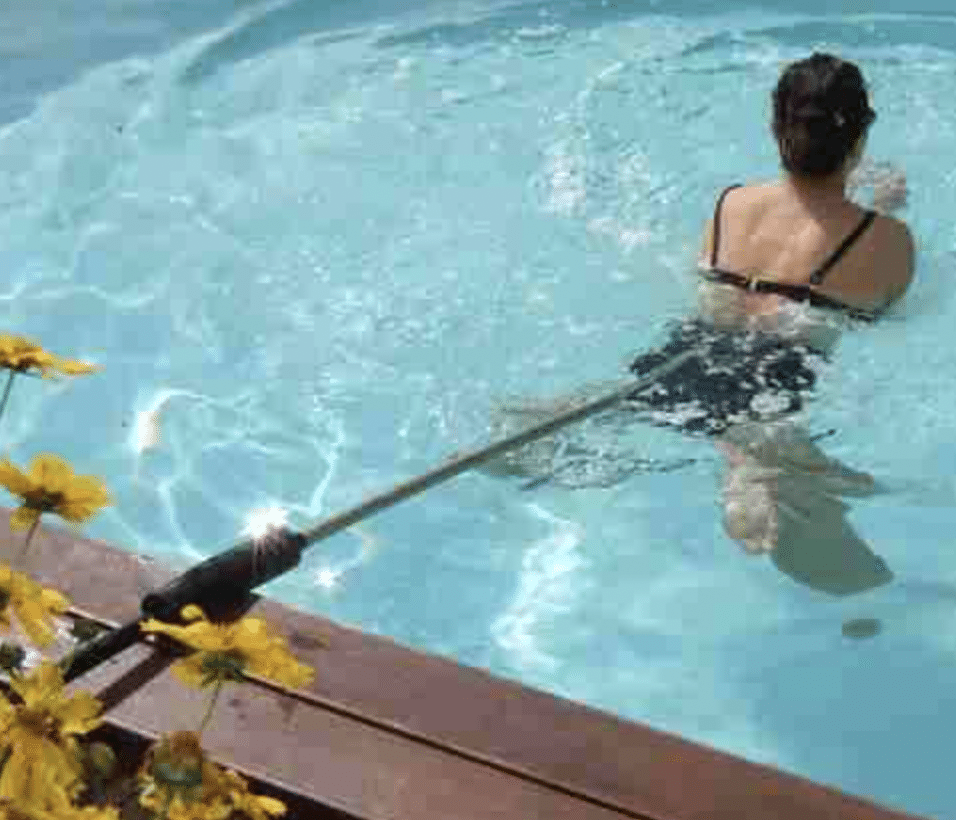 To conclude
You don't need an Olympic-sized pool to practice swimming at home! Whatever your sporting expectations (learning to swim perfectly), many systems are accessible. Be careful, however, to maintain a balanced water level because yes, we sweat in water! A daily practice of swimming in your pool will have an impact on the quality of your water. Find our advice in this article.